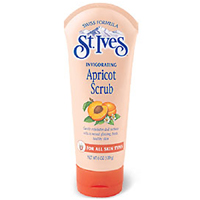 Walgreens has St. Ives products products on sale and with a Register rewards promotion going on: Buy $10 or more in St Ives products and get $5 in register rewards back.  The Apricot scrub is on sale for $3 each and St. Ives Body Lotion is on sale for $4.
Buy two scrubs and one lotion for a total of $10.  Use three of these $2 off any St Ives Product available at www.stives.com  You will spend $4 plus tax out of pocket and will get back a coupon for $5 off your next purchase.
This register rewards promotion is going on all month actually (ends Jan. 31st).  But the products are on sale this week only.  So get a raincheck if the product you want to buy is out of stock.
Thanks Jenny at Southern Savers for the heads up on this deal.
UPDATE:  I can't believe this deal is dead already.  I printed this coupon minutes before  I posted about it.  However it seems that the website got flooded with printing requests and the company chose to pull the plug on the coupon.  While I respect a company's decision to do this, in my book this is bad PR as it leaves a bad taste on potential customers.  What do you guys think? Coupons are printing again! Hurry up and print yours.