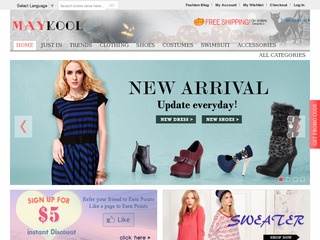 Are you a fashion blogger looking for free clothes to review on your website or blog? You're in luck!
Maykool is offering free products to fashion bloggers who will review and promote them on their websites, blogs, and social media accounts. There are a few rules to become a Maykool fashion blogger, so pay attention…
To get accepted to the program, you must:
be an established fashion blogger
be female between the ages of 15 and 35
love blogging about your style
bring 60 or more visits to the Maykool website
In order to continue receiving products from Maykool, you must:
post images of the items on your blog or website within 7 days of receiving a product
keep Maykool's banner on your website or blog
add links to Maykool's website or product pages to images and comments
maintain weekly current promotions on your forum
Although you will pay shipping upfront for the items you receive, you will be reimbursed the shipping cost after you post images of the products on your website or blog. Once they see that you've posted it, they'll reimburse your shipping costs.
If you're really into fashion, check out these cute moccasins from Cents of Style. Get the moccasins and four free bracelets for only $21.95. TODAY ONLY!