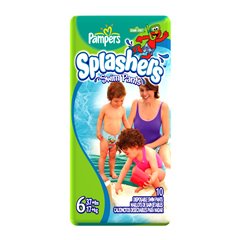 Update 7/17: It seems this was a price mistake corrected by the next day. Sorry about that.
Just a heads up before I go to bed: Reportedly Pampers Splashers and Huggies Little Swimmers are on temporary price cut at Target for $2.99 a pack.
There were $1.50 manufacturer coupons for Pamper Splashers in the 7/6 inserts and you can find a Target printable coupon in the coupon generator at Hotcouponworld for $1.50 off one. You get the pack of Splashers FREE after coupons.
There were also manufacturer coupons for Huggies Little Swimmers on the 6/22 inserts ($1.25 off one) or you can use the printable available at coupons dot com ($1.50 off one).
We do swimming classes throughout the year, so we go through a lot of swimming diapers. I was waiting for the end of the summer to find them on clearance but it seems the chance of getting them for free came earlier.
ETA: Like Anon so readily pointed out the Huggies Little Swimmers qualify for the Caregivers Marketplace rebate. After coupon and rebate you pay $0.75-0.50 for each pack.
Update: Not all stores have this price. I went by my store and the packs were the regular $9.99. Remember to scan the item to verify the price.
Happy Savings!