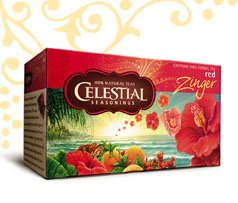 Just got back from my first Kmart super doubles trip and found two more items that can be had free after coupons:
Celestial Seasoning tea is on sale 2/$5 and you get $1 catalina coupon at check out when you buy two. Use the $1/1 manufacturer coupon from 10/5 inserts and you get it FREE after coupons and catalina.
Almay Make up is on sale 40% off. There's a $2/1 any Almay Cosmetic in the Beauty Book. I got mascara for free but I also noticed the cleansers would end up being free after coupon. I think the same applies for some eye make up: shadows and eyeliners. Basically anything priced $6.66 and below regularly should be free after the discount and doubled coupon. If you buy two products remember that you can get a free moisturizer through this offer.
My first trip went great ended up paying $8 for $58 worth of items and I got $16 in coupons for money off my next order.
For the full list of participating Kmarts, check here.
Happy Savings!