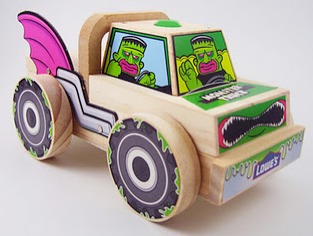 AC Moore: On Saturday 10/15 from 1-3pm, there will be a Wilton Cupcake Decorating Competition.Then on Sunday 10/16 from 1-3pm there will be the demo Monster Mallows.
Babies R Us: On Saturday 10/15 from noon to 3pm join in the event Ready, Set, Baby: Learn about the must-have items for every mom's baby registry, get valuable tips/ideas for planning a baby shower and enjoy great savings and free giveaways. Sponsored by Huggies, Philips, Avent, Baby Einstein, Summer.
Bass Pro Shops: On Saturday 10/15 from 10am-4pm have fun at the Professional Bull Riders Family Event. Families get to join in on stick bull riding, bull roping, make a FREE leather key chain, and more.
Jo-Ann Fabric & Craft Stores: On Saturday 10/15, 11am-1pm kids can make Halloween Puppets on a Stick. Demos are at 11am-1pm, Martha Stewart Crafts, 1-3pm Xyron Machines, and from 3-5pm Crafting with Peeps Candy.
Lakeshore Learning: On Saturday 10/15 from 11am-3pm, kids make and decorate play binoculars.
Michaels: Jewelry Events (Adults only) will take place on Sunday 10/16 from 1-1:30pm. Find other demos betweem 1:30-3:00.
Target: Select a city to find free or reduced-price admission to arts and cultural events in your area, sponsored by Target.
Walmart Event Finder: Enter your zip code to see events.
Lowe's: Build the above pictures moster truck at 10 a.m. at participating Lowe's stores on 10/22 (next Weekend)