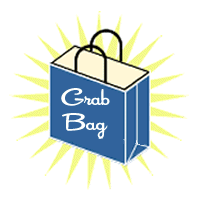 Here's a compilation of lots of free samples, magazines and other freebies available right now. Thanks to Kaley from Cha Ching on a Shoestring for her help in rounding up all of these freebies for you:
Free Samples
Free BeingGirl Sample Kit
Free samples of Migraine Medicine, Baby formula and more.
Free Magazines
Free Magazines: Bridal Guide, Parenting, Business Week and More
Miscellaneous
Pep Boys: Free Auto Maintenance Check
Free Bath Gift Set from Johnson's Baby Products
Sephora/JCPenney: Free Lorac TANtalizer or Liquid Lipstick Sample
Kodak Gallery: Free $15 Gift Card
Free E-Cookbook: Hearty Crock Pot Recipes
Free Recipes from Kraft Kitchens
Free Music (and other) Downloads
Free Yo Gabba Gabba Music Download
Free Music Downloads from Walmart: David Bisbal and Ivan
Free Music Downloads available from Amazon (see right side bar)
Free Food
KFC: Free Piece of Grilled Chicken on 10/26/09
Barnes and Noble: Free Cookie and Small Hot Chocolate on 10/24
Edible Arrangements: Free Chocolate Dipped Fruit
WI and IL Residents: Free Palermo's Pizza
Enjoy!