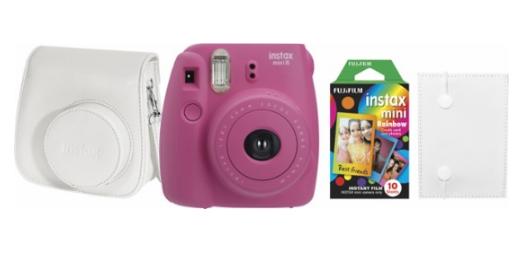 Awesome deal on this super popular camera! Head over to Best Buy where you can get this Fujifilm Instax Mini 8 Instant Film Camera Bundle (Hot Pink) for only $49.99 shipped! (Reg. $109.99) This bundle comes with the following items and features:
Fujinon lens: 

With a 60mm focal length, 2-element construction and 1:12.7 magnification lets you take high-quality photos.
0.37x real image finder with target spot: Helps you frame your shots.
Brightness adjustment dial: Allows you to select from f/12.7 (indoors, night), f/16 (cloudy, shade), f/22 (sunny, slightly cloudy) and f/32 (sunny and bright) apertures for customized use.
Manual exposure-switching system: Features a flashing LED indicator that recommends an ideal setting.
High-key mode: Enables you to capture softened images for a dramatic effect.
Exposure counter: Along with a film pack confirmation window lets you know how many unexposed films are remaining. Accommodates up to 10 film packs.
Constant-firing flash: Automatically adjusts the light to optimize your photos. The 0.2-6 sec. recycling time allows you to quickly snap photos.
Auto power off: Shuts off the camera after 5 minutes of inactivity to help conserve battery power.
Groovy Camera Case: To carry your camera in style.
Accordion Photo Album: Store your Instax photos with care.
Mini Rainbow Instant Film: Features credit card size instant photos with unique color borders that you can leave blank or write a personal, fun message.
This would make an amazing Christmas gift for the kids!