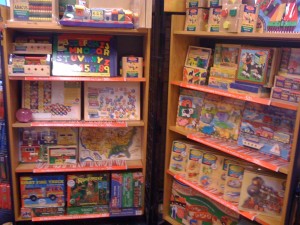 This past Saturday, my family and I spent 2 hours shopping at Borders.  You are probably thinking, so what?  Well, with an infant, a rambunctious two year old, plus a curious four year old, that is a real feat.  But time went by so fast!  The kids were engaged the entire time, playing with the HUGE toy selection that Borders currently carries.
This past week Borders invited me and my family to come and check out their toy section, and challenged me to see how far I could stretch a $100 Borders Gift Card they provided my family with.  I was curious as it had been a LONG time since I had visited a bookstore and never had I visited with the intention of buying toys.  That provided me with an open mind and creativeness to see how well I could do in this challenge.
How to Score a Good Deal at Borders
The first thing you want to do when you shop at Borders is sign up for a Borders Rewards card.  With this program you will receive exclusive member coupons and offers.  Signing up was easy at the store, and after checkout, a coupon for $5 off my next purchase printed out.  I immediately turned around and spent it buying a book from the bargain section.
This leads me to the second way to score a deal at Borders.  Browse the bargain section.  This store had a lot of books and puzzles all under $9.99.  I was able to pick up a book about dinosaurs for my four year old and another one about farm animals for my two year old for $4.99 each (I used the $5 coupon I got from signing up for Borders Rewards to help pay for this).
The third and probably best way to save at Borders is by taking advantage of their promotions.  Borders has a lot of different toy promotions going on right now.  For example, Melissa & Doug toys are buy one get one half off.  Games and toys are buy two get one free.  Finally if you spend more than $25 on your order, you got a free Bionicle toy.  So, for example you could buy three games, and if your total after the third (free) one is deducted is over $25, you get not only the third game free but also the free Bionicle toy.
Right now you can get a virtual 20% discount on your purchase when you take advantage of the Gift Card promotion that Borders is offering.  Buy two $25 Borders's Gift Cards and get a $10 Borders Gift Card FREE.
How did I do?
I think I ended up doing pretty well considering one of our purchases was a Playmobil set that took up a third of the budget.  We ended up with a total of 13 quality toy and book items for $128 total, and that includes a book we bought to donate to Borders Charitable toy Drive.  Because I took advantage of a couple of the promotions, I ended up with not one or two but three free toys (one game and two free Bionicles because I split my order in two).
Win It!
Right now two of my readers will have a chance to win one $100 Borders gift cards in this giveaway.  You must be within driving distance of a Borders store for you to be able to pick up your card in-store.  This is what you have to do to enter this giveaway:
1)  Go shopping at Borders!  Visit Toys and Games section and give me a rough idea of how you would spend this $100 Gift Card.  Come back and leave a comment sharing what you would buy.
2)  Follow me on Twitter and tweet the following:  "Borders is giving two lucky @commnsensemoney readers a chance to win a $100 Borders GC. Find out how: https://bit.ly/80wxew "
3) Become a Facebook Fan of Common Sense with Money and share this with your own Facebook Friends  "Borders is giving two lucky people the chance to win a $100 Borders GC. Find out how: https://bit.ly/80wxew "
4)  Share about this giveaway with your own blog readers.  Remember to leave me a separate comment sharing the link to your post.
This way you can earn up to four entries. Just please remember to come back and leave me a separate comment for each additional action you have taken (leave comment, share on Twitter, share on Facebook, etc).
If you are reading this entry via email updates or via RSS reader please CLICK HERE to visit my blog to enter. Emailing me is not a valid entry for this giveaway. This giveaway is open to residents of the United States only. Please enter only if you are 18 years or older.  This giveaway ends on 11/27 at 9PM CST.  At that time I will close the giveaway and select a winner randomly.
Disclosure: Borders sponsored this giveaway by providing me with a $100 GC to experience toy shopping at their store and two $100 GC to giveaway to my readers.  The money saving tips and other commentary shared are my honest opinion and the result of my shopping experience at Borders.