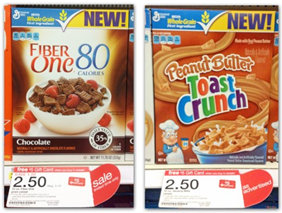 I told you last week about the Target gift card deal on General Mills Cereal making Cheerios just a dollar.  Now that the sale has started there are other inclusions where you can pick up cereal for as low as 10¢.  Here's how:
Buy (4) Peanut Butter Toast Crunch 12 oz – $2.50 (Reg Price)
Buy (1) Fiber One Cereal Chocolate 12 oz – $2.50 (sale price thru 2/23)
Receive $5 Gift Card Back for Buying 5
Use $1.25/1 General Mills Peanut Butter Toast Crunch
Use $1/1 General Mills Fiber One 80 Calories Chocolate Cereal
PLUS $1/3 General Mills cold cereals (excludes single serve) TARGET Coupon
Pay $0.10 each after coupons and Gift Card
Check out the other Target deals here.
Photo Credit, KCL