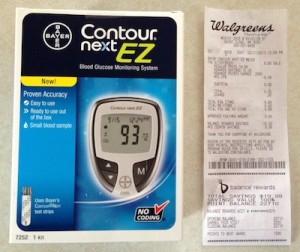 Walgreens is offering $10 off Bayer Contour Blood Glucose Monitors promo this week, making them just $9.99 each with your balance rewards card. There is also a $10 off one coupon in the Walgreens Diabetes Care book you can use and in addition you'll earn 2,000 balance rewards points when you buy one Bayer monitor. When you combine all offers this will turn into a $2 moneymaker deal!
Bayer Contour Next EZ Blood Glucose Monitoring System $19.99 Get 2000 Balance Rewards
Get $10 off from this weeks promo
Use the $10/1 Bayer Contour Next EZ Blood Glucose Meter coupon in Walgreens Diabetes Care Booklet
FREE + Moneymaker after coupons and Balance Reward Points
Note: Look for the coupon books to be near the Diabetes products.  Check out the other Walgreens deals here.
Thanks Frugal Finders