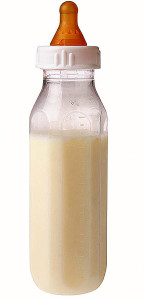 Free formula for your baby can help greatly reduce the cost of caring for your new little bundle of joy. Despite that old saying about nothing in life being free, finding free formula is actually very possible. Many manufacturers, in an attempt to lure and keep customers, dole out free formula samples to new parent, for instance. The great thing about these samples is that they're more like full-sized products.
There are also a number of other ways to get free formula for your itty bitty little one. Check 'em out!
Be a Joiner
As I mentioned above, you can often get free formula samples from manufacturers, and one of the best ways to do this is by joining their clubs or programs. When you sign up to clubs like Similac Strong Moms and Enfamil Family Beginnings – run by two of the largest formula companies out there right now – you'll receive free samples, high value coupons, and free feeding accessories. You might even receive a diaper bag packed full of goodies – completely for free!
Ask at the Hospital
Many hospitals will give new parents free formula samples and coupons when their new little bundle of joy arrives. Some also give away other great freebies, like baby books and diaper bags. If you aren't offered any free formula, be sure to ask. If they don't have any available at the time, they might be able to tell you where to get some.
Ask Your Pediatrician
Pediatricians are also great resources for free formula, since their offices are often stocked with freebies from manufacturers. If you're formula feeding, ask your pediatrician if he or she knows where you can get free formula. They might even hand you some formula right there on the spot, or at least give you some high value coupons.
Combine Coupons and Sales
Coupons for infany formula aren't usually too hard to find. Even if you aren't much of a couponer, make sure you hang onto these when you do get them. Check in Sunday papers and on printable coupon sites. At the same time, keep your eye out for sales on infant formula. During sales, you should be able to score some super cheap, or even free, formula when you use coupons.
Enter Giveaways and Sweepstakes
If you'd like to get your hands on some free formula just to cut costs, consider entering some of the many giveaways and sweepstakes out there. One example is the Parent's Choice sweepstakes, which gives away two full cases of free formula each week. Remember – you can't win if you don't enter!
Get Free Formula As a Gift
Most new parents are excited to add new car seats, cribs, strollers, clothes, and toys to their baby registries, but how many actually add formula. Requesting it as a gift is a great way to get free formula! You can also request formula gifts for special occasions, like birthdays and Christmas. It might not be a super fun gift, but it certainly is nice not to have to pay for it.
Government Programs
At times, you may not have enough money at all to purchase formula, which is obviously a bad thing. If you're facing an empty bottle and you have no money to buy formula, you may want to consider turning to a government program for temporary help. You can buy baby formula with food stamps through the Supplemental Nutrition Assistance Program (SNAP), but you may want to look into a program called Women, Infants, and Children, or WIC. This is a government program specifically designed to help mothers meet the dietary needs of their children. If you qualify, you'll be given vouchers for free formula and other dietary items, like milk, cereal, and peanut butter. To find out if you qualify, contact your local assistance office.
Charitable Organizations
If you're in dire straights and need formula as soon as possible, consider contacting your local food pantries. Infant formula is often donated to these types of businesses, and you can usually get free formula right when you ask, as long as it's available. Other charitable organizations that may give out free formula include churches and other houses of worship, community centers, and women's shelters.
Resources For Free Formula