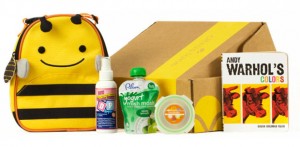 If you haven't had the chance to try Citrus Lane yet, here's your opportunity!
For those who aren't familiar with Citrus Lane, it's a service that delivers a box of surprise goodies for your little one each month. Every month your little one will receive four to five items, such as books, toys, and snacks. Occasionally, they'll even throw in something for mom or dad. You'll never know what you'll get from one month to the next. The surprise is part of the fun, though!
Now, you get to try out Citrus Lane for 50% off of your first month's subscription. It's easy!
Go to the Citrus Lane website.
Click on "Get a Box".
Select the "Monthly Subscription" offer.
Enter your information and information about your child.
Review your order and click "Continue".
Enter the promo code TAKEHALF (or BLOGSAVE) and click "Apply" to see your savings.
That's it! Here are a few things to keep in mind…
Offer is only valid on

MONTHLY

 subscriptions. You won't get the discount on gift subscriptions of multi-month packages.
Offer is only good for new Citrus Lane customers.
The price for one month with the monthly subscription is $25. With this offer, though, you'll get your first month for only $12.50.
Your credit card will be charged during the first week of each month if you don't cancel.
You can cancel at anytime.