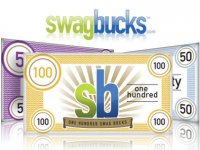 Time to party! Today only Swagbucks is havign a Swagcode extravaganza and releasing five free swagcodes throughout the day. Make sure to keep checking the Swagbucks toolbar, blog, Twitter and Facebook page for these codes.
If you hear of these codes make sure to shoot me an email so I can share with the rest of you on the CSwM Facebook Page.  Not swaggin' yet?  Check out how you can start now and get 70 free swagbucks here. This offer is only available through 8/15.
UPDATE:  First swagcode is out already.  Check the Swagbucks blog for a free code worth 7 swagbucks.  The code is good until 9:30 PDT.