Gevalia is back again with a new for Tea drinkers like me!  Purchase four Gevalia tea products for $9.99 and receive FREE Tea Kettle all shipped free!  This would make a perfect gift set for the tea lover in your life.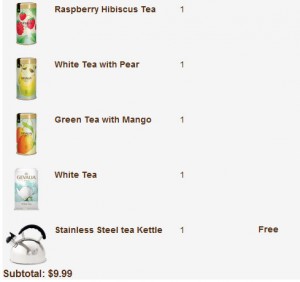 All you need to do is Add four premium Tea products of your choice and the stainless steel kettle (regularly priced at $19.95) to your cart and get all for just $9.99 Shipped!

As you may know, as soon as your order is placed you are automatically enrolled to receive more Gevalia shipments. After you receive your order just call 800-438-2542 to cancel your account (login to your account online) it takes 2 minutes. You will never receive a bill and you get to keep all of the above with no further commitment.