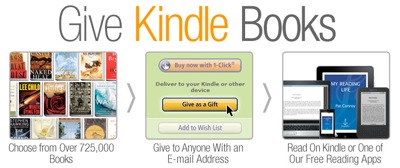 You all know how much I love reading my kindle books and wanted to pass along a great gift idea for other avid readers! Most Kindle books available for purchase in the Kindle Store can be given as a gift to anyone with an e-mail address.  Check out the super easy steps to giving your favorite kindle books to family and friends! There are over 725,000 options and here are a few of the best sellers you can grab right now:
[easyazon-link asin="B0079KT81G"]The Hobbit[/easyazon-link].
[easyazon-link asin="B006LSZECO"]Gone Girl: A Novel[/easyazon-link].
[easyazon-link asin="B005K0HDGE"]11/22/63 Stephen King[/easyazon-link].
Those are just a handful of options so you can check out the rest of the Hot bestsellers here.
You do not need a Kindle device to send or receive Kindle book gifts, and the recipient can read their gift on a registered Kindle device. You can read it on your PC, iPhone, iPad
, Blackberry and Android.  Just download for free the appropriate application to be able to do that.
If you're stuck on exactly what kindle book to get you can always grab an Amazon Kindle Gift Card with three delivery options – print at home, email delivery or facebook delivery!