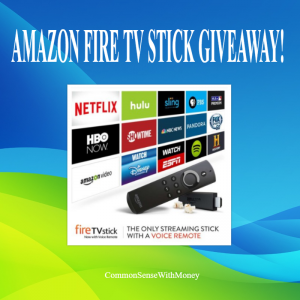 It's been awhile, so we figure it's time to do a Giveaway around here! We want to show some love to our readers!
We want to be sure all of our readers are aware of when the HOT DEALS are posted, especially with the upcoming holidays. Yes, that's right. It's time to start stocking up on great deals for Christmas! You really can save a lot of money if you are in the know of when the HOT DEALS are posted! For this reason, we've come up with a new Common Sense with Money Text Club. These texts are ONLY sent out when there is a SUPER HOT DEAL that needs to be purchased immediately. This text alert program will be key to snagging all the awesome deals that are starting to pop up as we head into the holiday season. These deals often go quickly, so it's important to be in the know with the text alerts.
We want to keep you informed, so we're giving 1 Lucky Reader an Amazon Fire TV Stick with Voice Command Remote! Just make sure you've joined our Common Sense with Money Text Club and you are entered into the Giveaway!

HOW TO ENTER:
Text the word "COMMON" to 41411 to join
You will receive a message asking you to confirm joining
Reply back to the message with the letter "Y" and you will be confirmed
PLEASE NOTE: Common Sense with Money will NEVER spam you or sell your information to anybody. We will ONLY be texting SUPER HOT DEALS that should be purchased immediately.
That's it. Pretty easy! If you've previously joined, then you are already eligible to win!
Giveaway Winners will be announced Friday, September 2nd. (The entry deadline will close at 9 am, so we can draw winners). Winners will be texted directly to claim their prize, so be watching your texts on Friday!