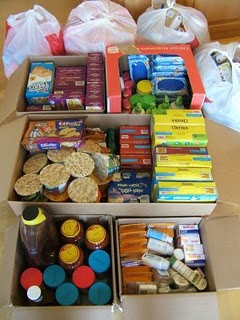 Happy Thanksgiving everyone! I hope you are having a great Thanksgiving day. Even though I won't be celebrating with my family today I want to still give thanks.
This past year my family has been truly blessed. We had a new baby boy come join our family last December. We have been healthy and despite the current economic situation we have been able to increase the amount of savings we have. That's why when Amy from MomAdvice called for others to help make a difference in our own towns I took her up on her offer. Within days I was able to put together the six boxes and four bags of food and health and beauty items you see above. This is what I took to my local Salvation Army.
I am not going to stop here though, there's no reason. If you have been reading this blog for a while you know it seems there is always something free after coupon at some store. I feel that my effort and time in obtaining those free items is the least I can do to help others who have been less lucky in life than I have been. In the immediate future, with the help of a sponsor I will be sponsoring two families' holidays, including meal and gifts for the family.
You can help too. You probably often see free offers for items that maybe your family doesn't use or need. If they are free pick them up anyway. Even if is just one item a week you are able to get free, after a few weeks you are likely to have collected a box to make a difference for someone. It just takes one person and a little bit of effort to help make someone's present better.