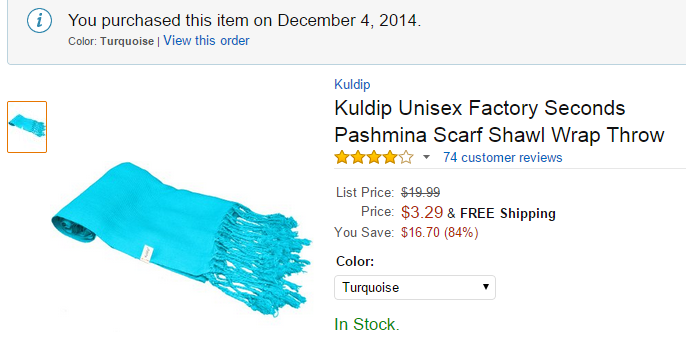 I told you a couple of weeks ago about the scarf/shawls on Amazon for $3.49. Well, I ordered two at the time, and I received them a couple weeks ago. I figured I'd give them a little test drive before posting a review.
First of all, they arrived MUCH faster than expected. I think it only took a week or two, and delivery was scheduled for January 15th, so it was a nice little surprise.
The scarves themselves are actually quite soft and super comfy! I wear mine out and about as a scarf and around the house as a wrap when it gets chilly. The product description says "Pashmina", but these are NOT Pashmina, which I had already figured. Despite being "factory rejects". I have yet to find the flaws on these, but then again I didn't look very hard either.
Now, the colors! There were SO many colors to choose from, it was difficult to decide! I ended up getting a burgundy one for myself and a turquoise one for Mama. My burgundy scarf looks pretty burgundy. Her turquoise one, though? Gorgeous! I'll definitely be ordering a turquoise one for myself along with a couple of other colors.
Final verdict? I'd say it was worth the price. They've held up well so far, they were under $4, and they're comfy and perty! If you love scarves, I'd definitely recommend these!
Shipping is free for Amazon Prime members, or if your order is $35 or more.
Want to find out more about FREE shipping on Amazon?
Resources You Might Like: