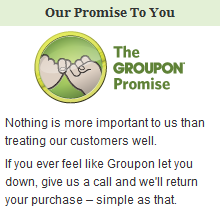 I just wanted to remind you that if you ever bought a Groupon you are not satisfied with, Groupon will refund you.  I know a few of you are concerned about the Dormzy deal I blogged about a few days ago since the site seems to be out of a lot of items.
So, if you are concerned about this, just email Groupon and tell them the merchant is out of stock the items you want to buy and you are concerned about being able to redeem this Groupon.
I also wanted to share with you a couple of other positive experiences I had recently.
1)  I received a handwritten Thank You Note from Land's End Canvas for purchasing from them.  I had NEVER received a hand written note from a company.  So this one made a great impression for me.
2) I shared last week that an order I placed on the Walmart website was partially canceled.  Only one of the items ended up being shipped.  Well, a LOT of people were displeased with this cancellation and they voiced their dissatisfaction.  On Saturday I received an email from Walmart.com letting me know that they had added a $10 Walmart e-gift card to my account to make up for the problems related to the cancelled order.  I was thrilled!  That meant I paid $6 for Super Mario Galaxy Game for Wii.  Sweetest deal ever!
What good customer service experience have you had lately?