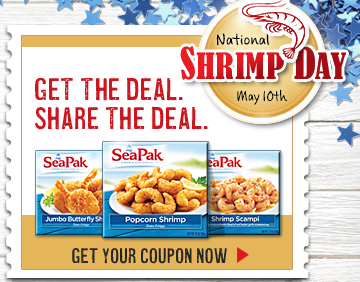 There oughta be a calendar with all of these crazy National Days out there.   Because I didn't know but today is National Shrimp Day!  So head to the Seapak website and print a coupon for 75¢ off one Seapak product.  BUT if you share about these coupons with your friends on Twitter or Facebook the value of the coupon you can print increases to $1.25!
Now, some Walmarts sell the small boxes on Seapak Shrimp Poppers for $1.67 each.  If you go the extra mile and get the $1.25 off Seapak coupon then you pay only $0.42 per box.  I have to tell you that I have never been lucky to find these.  But that's Walmart for you, prices and products vary by region so keep that in mind!
PS.  not sure how long this coupon will be available so print it while you can.
Thanks Hip 2 save!