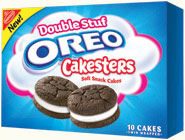 Heads up you guys!  There's another free coupon offer from Kraft's First Taste.  Log in to your account, under "My Offers" you may see the offer to have a coupon for free Oreo Cakesters.  This offer is available while supplies last.  Not everyone may get this one.  I have ten invites to share.  The first ten people to leave me a comment with their email will get one from me.
BTW, can I just share that I am sad I never got my free oreos coupon from the Facebook offer. I know I registered in time but never got it 🙁
Thanks Mojo Savings!