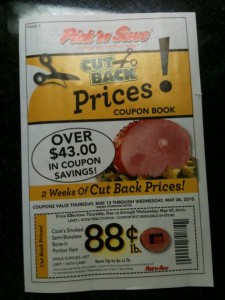 This is for my WI and MN readers who shop at Pick N Save, Copps or Rainbow Food Stores.  There is a new store coupon booklet that is being mailed out now.  Reader Andrea shared that she got hers in the mail yesterday and these are the coupons included in the booklet:
88cents a pound Cook's Ham
$1.98 Johnsonville Cooked Beer or Stadium brats
58 cents Roundy's White Bread
98 cents Skippy Peanut butter
$1.48 Roundy's OJ
98 cents for Pop Tarts
48 cents Chicken of the Sea Chunk Light Tuna
98 cents Crystal Farms American Singles
$1.68 Keebler Graham Crackers
68 cents for Kraft Marshmallows or Marshmallow creme
$1.98 Roundy's Ice Cream
BOGO Iced Fudge Brownies
$1 off any 2 kraft cheese
$1 off any two Dixie Cups, Napkins, Plates
$1 off any 1 20 OZ 8 pack of powerade
98 cents Grape Tomatoes
68 cents for a head of ice berg lettuce
$4.98 for a rotisserie chicken
$2.88 a pound for steakhouse potato salad
88 cents for a Louis Rich Ground Turkey chub
$5 off No Name Salmon Steaks
$1 off Colgate basic toothpaste
58 cents for VO5 Shampoo or Conditioner
Gerber 2nd foods 10 for $8.80
Huggies diapers, pullups, Goodnites for $7.98
Roundy's 2x Ultra Detergent $9.98 for 150 Oz
Red Vines licorice for $1.28
Charmin Bath Tissue for 98 cents
Free Doritos or Tostitos wyb 2 Pepsi 24 packs
Thanks Andrea for taking the time to type those out and Marcia for the pic! It looks like a good deal on a LOT of items. These coupons are valid from 5/13-5/26. Make sure not to toss this one out with the junk mail!