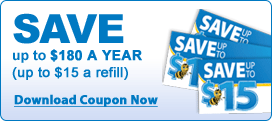 Here are some pretty awesome Nasonex coupons if you have a prescription to this medicine.  Visit the Nasonex website and you will be able to print a coupon for up to $15 off this prescription.  If your copay is less than $15 you will get this medicine free.  If your copay is more than $15 then you will save $15 on it.  Go back every month to print this coupon and save.
Here's a money saving tip:  If you take a prescription medicine regularly and buying generic is not an option, ask your doctor about any special offers available from the manufacturer.  If s/he doesn't know of any, then search online or contact the makers directly to inquire.
Thanks Marcia for sharing about these coupons!