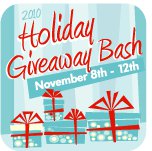 Here are the 19 lucky winners of the Holiday Giveaway Bash plus the 2 Domino's $20 Gift Card Winners!
Crystal K. says, "I like you on Facebook."
Renae H says, "Oh – these look nice! I'd love to win a pair!"
Debbie R says, "Would love to win this for my grandchildren."
Jessica says, "I follow you on fb"
Judy says, "Would like to see as well, if it works some magic after 3 kids."
jenn D says, "What great Christmas presents these would be!"
Sandy says, "I am an email subscriber."
Debbie says, "Hope to win Harry potter"
Elaine says, "I'm a facebook fan"
Tammy L says, "I subscribe via email."
Daisy says, "following you on facebook!
Laura says, "We do a lot with digital photos & would love a shutterfly credit!"
Jen Y says, "Thanks so much for the chance to win! My son or daughter would love the dora book!"
Katherine says, "Email subscriber"
Nicole says, "I'm an email subscriber!"
Christy D says, "We love Veggie Tales"
Chad A says, "I get the emails."
Anne says, "This would make for a great present."
Tammie R. says, "I like you on FB."
Kristin says, "I'd LOVE to win! Who doesn't love pizza?"
Ami says, "Dominoes Pizza is amazing"
**All winners have been notified via email with further instructions.**