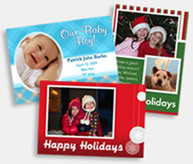 If you still have not ordered your photo cards for this year, here are a few photo card deals available right now:
Get 100 Free Holiday Postcards from Vistaprint.  Click here to find this offer and scroll down to "Free 100 Holiday Postcards."  Then sort by "Style" and Choose Holiday.  Shipping is as low as $6 but it says it takes 21 days.  You may want to do the 7 days one for $14.
Get 25 FREE 4×8 Holiday Photo Cards on Seehere. Just pay shipping of $4.99. This offer is available to new accounts only.
The Seehere offer costs a little bit more per card BUT not everyone needs 100 cards.  I usually pick up my cards in January when they go on clearance at Target.  That's something you may want to consider doing this year.