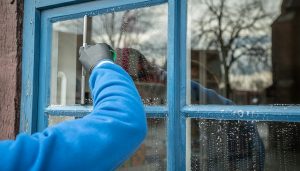 Yesterday we talked about great home improvement projects to take on this fall, but I didn't get them all on there! I am in a major home and décor update mode right now and I keep getting so many ideas of things to do!  
If you are looking for good ways to spruce up the look of your home, check out these ideas. I know that it's technically still summer, but I have already started some of these home improvement projects to do this fall. 
More Home Improvement Projects to Do This Fall
Change Your Room Décor
Okay, this might not be exactly a typical "home improvement" project, but I love to change up my room décor with the seasons. I really, really love fall so I enjoy keeping fall colors in my bedroom décor with this change, but I also like to keep my room color bright. I often add the fall décor in the form of accessories like throw pillows, etc. 
Clean Your Windows (Inside and Out)
I clean my windows relatively often, but I typically only clean the outside of my windows two times per year. I do this in the spring (because I love seeing those flowers bloom) and in the fall! Fall is a great time to clean the outside of your windows because with hot, dry temperatures of summer can bring on a lot of dust. It's not always noticeable either. You'll be pleasantly surprised to see how bright your view can be again. 
Clean Out Your Gutters
Fall is the ideal time to clean out your gutters. Save this one til the end of fall though because you want to get all of those fallen leaves out of your gutters before the winter rain and snow hit. 
Pack Up Your Lawn Tools
Do a sweep around your yard/property and make sure that all of your lawn tools are cleaned up and put away. This will help keep them in good condition until next yard/gardening season comes along.  
Check Trees and Shrubs for Broken/Weak Branches
Inspect your trees and shrubs for broken/weak branches so that you can clip them and keep them from falling during any windstorm or heavy rain or snow.