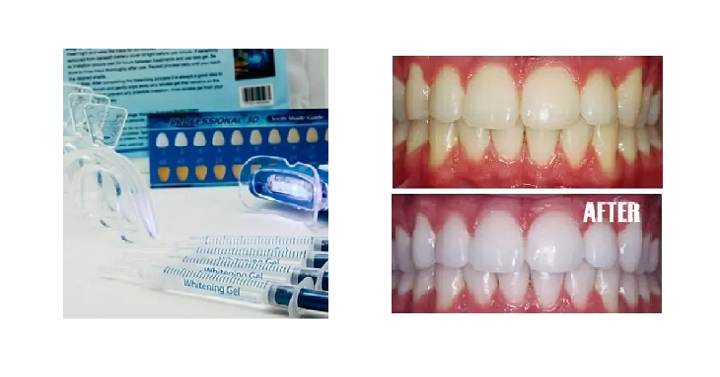 This is an awesome deal on this kit! Grab this Home Teeth Whitening 3D System for Only $9.99! (Reg. $100). The whitening gel is the same strength used by dentists. This high viscosity gel is the standard used throughout the dental industry for take-home whitening, as well as in-office whitening treatments. One laser treatment at a dentist's office can run around $299-$1,000.
Details: 
LED light helps improve the whitening speed up result
Keep track of progress through shade guide
Enough whitening gel for multiple treatments
Gives you a white smile in a week!
What's in your package:
4pcs (3ml) FDA approved 44% carbamide peroxide gel syringes
4pcs form and worm mouth trays
1pc LED blue light
1pc shade guide
LED light: Blue light with 2 × 3V batter
Remineralization gel- Reduces sensitivity after teeth whitening
Instructions:
Dosage 1 time a day for 20 mins.
7 days is a whitening cycle.
Could promote 8 shade guide on average
Great for: 
Extrinsic tooth discoloration (affected by coffee, tobacco, sauce, tea, food, etc.)
Intrinsic tooth discoloration (e.g. mild fluorosis or tetracycline staining)
Genetically yellow teeth.
Other cause of teeth discoloration,
All the people who want a whiter & brighter smile