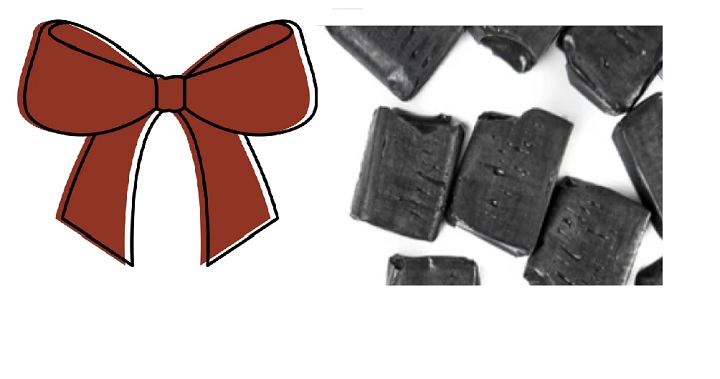 One of my favorite things to eat during the holidays are homemade caramels. They are SO good. If you want to break out of the traditional caramels, you should give black licorice caramels a go. I make these every year with a batch of the normal caramels (you can find that recipe here) and I put a few of each in a cute bag and give them as gifts to neighbors. I always get compliments on these black licorice caramels. Even people that don't typically like black licorice really enjoy these ones!
Homemade Black Licorice Caramel Recipe 
Ingredients:
1 Can Sweetened Condensed Milk
2 Cups Sugar
1 Cup Butter
1 1/2 Cup Light Corn Syrup
1/4 Tsp Salt
1 1/4 Tsp Anise Extract
1 Tsp Black Paste Coloring
Directions:
Butter Sides of a big heavy pan
Medium heat add all ingredients to the pan except for the anise and paste coloring.
Bring to a steady boil and stir constantly. Use a candy thermometer until it gets to 234 degrees.
 Take off heat and add anise extract and black paste.
 Pour into a buttered 9×13 pan – do not scrape the cooking pan.
Cool completely before touching/cutting.
Cut into squares and roll in wax paper.