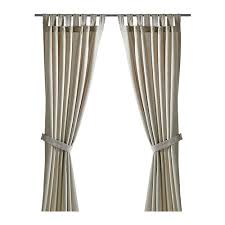 One of the cheap decorating ideas I mentioned in an earlier post was to change out the fabrics in your home, including your curtains. This may not be such an inexpensive option, for some, especially for those with a large number of windows in their homes. In fact, I think they're one of the most overpriced home decor items out there.
Even the simple fabric panels that you find at budget stores can get super expensive if you have more than a few windows that need to be covered.
You don't have to have bare windows, though. Nearly everyone can make some cheap homemade curtains, even those with minimal sewing and DIY skills. Now, this isn't one of those image heavy tutorials on how to make homemade curtains. I'm just going to give you a few ideas on how to cover your windows for next to nothing. Or at least a lot less than those curtain empires want you to pay!
Un-curtains
There are lots of items that can be used to make homemade curtains. I call these the "un-curtains", since they really aren't curtains at all – just fabrics that can be repurposed into homemade curtains.
I'm a big fan of un-curtains. They're cheap, simple, and I've used them to cover just about every window in my home. In fact, I prefer the un-curtains that I have hung to the few store bought curtains that are left.
Here's a short list of just a few items that you can use to make homemade curtains:
Sheets
Sheets make excellent curtains for a number of reasons. First, they come in some awesome colors and designs, they're very large, and they can be dirt cheap if you know where to look. You can use a single sheet or two as homemade curtains for huge windows, or you can cut one sheet into a few pieces for smaller curtains. Sheets can also be found for dirt cheap during clearance sales and at thrift stores.
Kitchen and Tea Towels
These small towels can often be found in vibrant accent colors with cute designs, and it makes it easy to match your kitchen towels to your homemade curtains! They are also the perfect size for covering small kitchen and bathroom windows, and can be picked up for super cheap at your local dollar store.
Tablecloths
Over the summer, I picked up around two dozen white linen table cloths for less than $10 at a roadside sale. I did this for one reason – un-curtains! They were the perfect size for some of my windows, they hung well, and I really couldn't beat the price!
Scarves and Bandanas
Like kitchen and tea towels scarves and bandanas make excellent curtains for small windows. You can also sew a few together for larger homemade curtains.
Drop Cloths
Painter's drop cloths are generally less expensive than frilly curtains, and they're so much thicker and tougher. These can be used for winter curtains to help insulate from the cold, as well as summer porch curtains. I haven't tried making homemade curtains for the porch just yet, but it's on my list of things to do.
Hanging Homemade Curtains
If you're handy with a sewing machine, you can fold over the tops of your homemade curtains and sew a pocket for the rod to slide through. If you aren't the best sewer, you may have to find other methods of hanging your curtains. For instance, a couple of cuts on the top edge of a flat sheet make a perfect pocket for a curtain rod.
Here are a few other ideas…
Ribbon
Wide ribbon can be used to create tabs across the top of your homemade curtains for a curtain rod to slide through. Just fold over a short length of ribbon to make a loop and sew the tabs to the top of the curtain. If you want no-sew curtains, you can also hot glue the ribbon tabs to the top of the curtain.
Clips
You could spend a bunch of money on curtain clips for your new homemade curtains…or you could just make your own. To do this, just slide the metal loops of a binder clip onto a metal ring, such as a binder ring or a metal shower curtain ring. You can also slide the binder clips onto loops of ribbon. Clip the clips to the top of your homemade curtains, slide the rings onto the rod, and viola!
No-Sew Tape or Glue
If you don't have a sewing machine, you can use heat bond tape to hem homemade curtains or add a rod pocket at the top. Just put a strip of tape between the pieces of fabric you want to fuse together and press it with an iron. In a pinch, you can also use fabric glue.
While you could use regular curtain rods to hang your new homemade curtains, this can get quite expensive if you have no curtain rods and very few windows. Fortunately, there are also a number of creative and cheap ways to hand homemade curtains.
Electrical Conduit Electrical conduit is a super cheap lightweight metal pipe used to hold and protect electrical wires. But you can use them for curtain rods! You can usually find a 10 foot section for a little over $2 at your local hardware store. Depending on how big your windows are, you might even be able to get two or three curtain rods out of each conduit. You can invest in a cheap pipe cutter or you can have an employee at the hardware store cut your conduit curtain rods down to size, if need be. If you don't like the industrial metal look, you can always spray paint them any color you'd like.
Wooden Dowels
Since most of my windows aren't too wide, a lot of my curtain rods are actually cheap wooden dowel rods. The wood can be stained or painted.
Tree Branches
Straight smooth tree branches can be used to hang homemade curtains for a rustic look. You can leave the branch natural, or you can paint it.