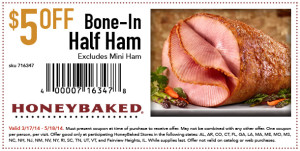 If you haven't picked up your ham for Easter dinner yet, you might want to print one of the new coupons for a HoneyBaked ham!
Here are the coupons available…
$5/1 Bone-in half ham (Excludes mini-ham)
$4/1 Boneless ham
$3/1 Mini-ham
Don't eat ham? There's also a coupon for $3/1 smoked or roasted turkey breast! These coupons can be redeemed at participating HoneyBaked stores in specific states. Make sure you read the coupon fine print.