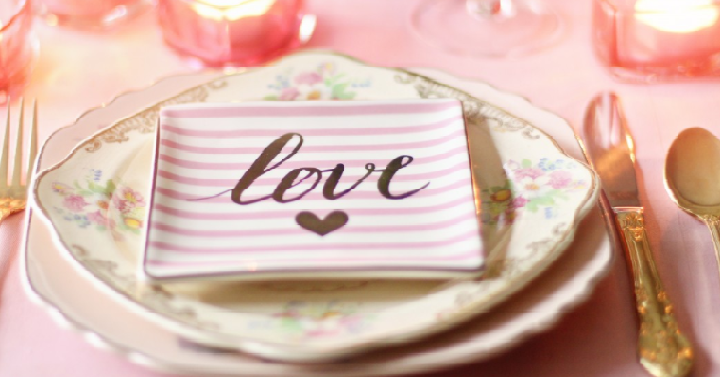 Valentine's Day is next week. What do you have planned? This year I thought it would be fun to have a nice dinner at home. That way we aren't competing with everyone else for a dinner table at a nice restaurant. It doesn't have to cost a lot of money to make your dinner nice and elegant. Here are a few tips to help your plan that perfect Valentine's Day dinner and still stay in budget.
Use your own dinnerware sets or borrow one. If you have nice china already, then this is the perfect time to dust it off and use it. If you don't, think of someone you could borrow from for a night. Asking your parents, siblings or neighbors would be an easy way to get nice dinnerware sets for free.
Buy candles in bulk. The classic candlelight dinner is perfect for a nice setting. If you have kids, they really think this is cool! If you don't already have candles on hand, then think about buying them in bulk. It's usually a lot cheaper if you do this. Then if you are making this dinner a tradition, you will have some for next year. Amazon has a great variety that you can get shipped right to your home. You can check those out here.
Make your own name cards. When you are hosting a dinner, it's nice to have name plates on the dinner settings. Instead of buying them, get out your own paper and markers and get crafty! Pinterest has so many free name cards that you can make and not spend a penny.
Shop the deals at your grocery store. For the food, be sure to check your local grocery store on the sales they have going on. Sometimes we may already have an idea of what we want to make, but it could be super expensive. Instead, look at what is on sale this week and use those items. This will save you a ton of money. Be sure to use digital coupons as well when shopping at your store.
Don't pay full price on flowers. When hosting a dinner, it's always so nice to have a bouquet of flowers as a centerpiece. Around this time of year you can always find a deal on flowers. Places like Groupon and Living Social have deals right now that you can get and use for your flower purchase.