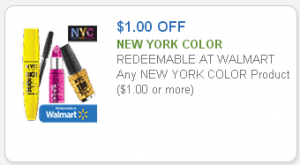 Nice!
This new coupon for $1/1 NYC Color product of $1 or more just popped up under zip code 77477! I know that my Dollar Tree, Dollar General, Family Dollar stores carry NY Color lipsticks and eyeliners for as little as $1, so FREE after coupon!
Walmart sells these products for under $1 (97¢, I think?), so you may not be able to score freebies there. However, you can get some super cheapies
Going shopping? Check out all of the recent coupon deals we've found!
Get grocery coupon matchups right at your fingertips with Favado!
Sign up for FREE!

Resources You Might Like:
Coupons.com