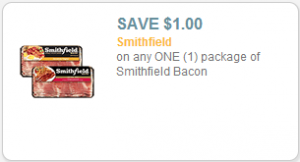 With the price of real bacon being so high these days, I've shied away from it during my shopping trips. Too bad, too, 'cause I love me some bacon!
And I definitely love this coupon!
Hurry over and print a HOT new coupon for $1/1 package of Smithfield bacon! This is bound to be a pretty popular coupon once people get wind of it, so you'd better print it sooner rather than later. If you don't see it preclipped, login to your coupons.com account and change your location to NY zip code 12345. Then, come back and click on the link again.