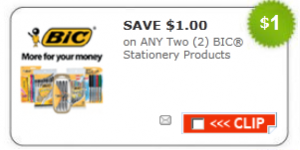 Hurry up and print this $1/2 BIC Stationary product coupon. Use zip 03110 and sort by Office Supplies. You can use this coupon to get free pens at Target:
BIC Crystal pens $0.50
Use $1/2 manufacturer coupon
Two Free after coupon
If you don't have a Target, you should print this coupon either way as these pens will go on sale over the next few weeks for 2/$1 at other stores as well.
I can tell you this coupon won't last long. So print it now!