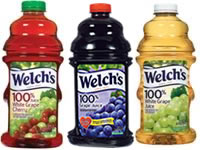 I am in crisis mode.  I have run out of paper so I can't print these Welch's Juice coupons and my husband loves Welch's grape juice.  Hopefully you have been a better planner and have paper to print his one before it's gone.
Save $1.00 Welch's off any 1 46oz or 64oz 100% Juice or Light Juice Drink
Save$0.55 Keebler On any ONE package of Keebler® Sandwich Crackers
Save$1.00 Palmolive or Ajax Hand Dish Liquid 21 oz. or larger (available to certain zipcodes). The Ajax dish liquid is on tenporary price cut at Target so FREE after coupon
Save$1.00 on any one (1) McCormick Spice, Herb, Extract or Food Color (available to certain zipcodes as well)
Save $0.75 off Wishbone Salad Dressing
Save $0.65 off one Daisy Brand Cottage Cheese
Save $2 and $1.50 Contessa Meals
Happy printing!