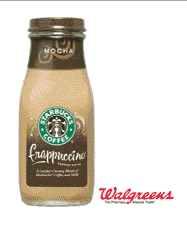 Walgreens has the single bottles of Starbucks Frappucinos for $1.25 each after in-ad coupon.  Use this $1/1 printable coupon (IE Link) (FF Link) to get them for only $0.25 each!  Pick them up on 7/31 and get an additonal 15% off, or pay just six cents.  Possibly even less if the 15% off is deducted off the regular price not the after in-ad coupon.  Don't forget to hand the manufacturer coupon first and then the in-ad coupon.
May I recommend Mocha?  I just love it!  Vanilla is second best.  Check out the rest of the Walgreens Deals here, here and here.
PS.  Coupon prints with Walgreens logo on it just like image I used.
Enjoy this cheap coffee fix!