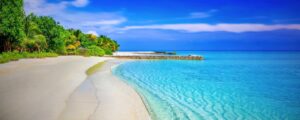 Are you ready to go on vacation? Me too, my friends. Me too. I am so ready to take a break away from the craziness of life and go on a trip. Everytime I go on vacation, I find myself with renewed energy and a refreshed mindset. It always makes a difference in my home life and work life too. 
I have found though that setting a budget for vacations makes a huge difference in making sure that taking a vacation doesn't create too much stress for our family. I love planning budget friendly vacations, but they can easily become not so budget friendly if you don't plan them accordingly. 
How to Create a Vacation Budget
See How Much Money You Have
Pay close attention to your finances for a few months. How much savings do you have? How much do you have in your checking account? Do you have enough to spend extra money on a trip? 
Calculate the Cost of the Trip
Okay, so now that you know that you have some money free to plan a trip with, it's time to start planning! What is it that you want to do? It's now time to calculate the cost of that trip? Will you be flying? How much are the tickets? If you are planning a road trip vacation, now is the time to calculate the fuel expenses. 
Don't Forget About Sneaky Travel Fees
When you are calculating the cost of your trip, don't forget to include the sneaky fees that are often forgotten about. I'm talking about fees such as luggage fees, parking fees, tips for service, resort fees, etc. 
Pad Your Budget for Extra Costs
No matter what you think you'll need for spending on vacation, add to it. You just never know when unexpected costs will occur.