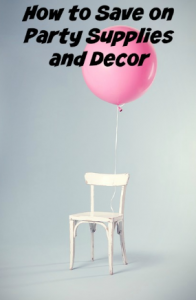 Are you planning a party for the end of Summer? Labor day is coming up after all. Or are you thinking ahead to the holidays?
The thing about parties is that they only last for so long.  Sure you want to decorate and make it look awesome, but do you really want to stretch your budget on decorations that you are just going to be throwing away the next day?  Even if you save it, it's going to be stored for another year.  I hate spending a lot of money on one time use items.  I literally hate it, so I refuse to do it.
Here are the alternatives I have found that help me to save on party supplies and decor:
Shop at the dollar store
Most of us have a dollar store of some kind nearby and these are a great place to find decorations for your party!  They have streamers and balloons, sure, but they also have so many other options for you.  
Check out their seasonal aisle for great faux flowers and seasonally appropriate decorations.

The have aisles full of candles and candle holders in case you are looking for items with a candlelit theme

Glasses with decorative rocks make great centerpieces and you will find both at the dollar store! (I know a girl who decorated her entire wedding reception with dollar store items and it looked amazing!)
Use what you already have
Most of us have decorating items throughout our house and we don't even realize it.  For example, a while back my son wanted a car themed birthday party and I was thinking I would need to spend big for decorations, but then it hit me.  He is the owner of about 100 (probably more) Hot Wheels cars.  I used these as centerpiece decorations (the trucks on a bed of rocks were a big hit) and bought one brand new Hot Wheels car ($0.97 at Walmart) for a cake decoration.  This car party was a success and I literally spend less than $1 on a decor.
Shop Clearance
If you have room to store party supplies in your house, then I highly suggest shopping the clearance racks after a holiday and at the end of seasons.  You can get some rock bottom prices on decorative items such as streamers, paper plates and more.  
p.s.  Did you know that the Dollar Tree has clearance?  I was in a couple weeks ago and saw 4th of July decor marked down to 4 for $1!  Now that is worth buying now and saving until next year!  I typically store these kinds of items with my gift closet stuff.  Whenever a birthday or a holiday comes along, I know just where to look.