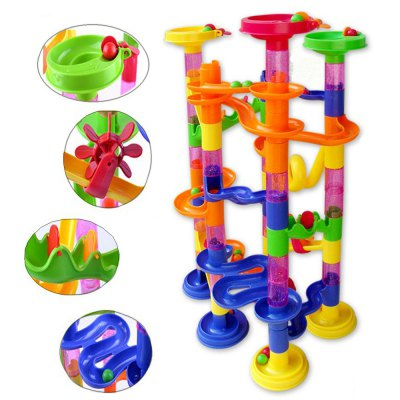 Ok this looks like something that could give your kids hours of fun! GearBest has the Track Marble Run Blocks DIY Construction Race Deluxe Toy 105pcs for just $12.39 when you use coupon code TRACK at checkout! Plus shipping is FREE! (You'll need to create an account and verify your email address before you can use the coupon code) This features:
– 105pcs deluxe marble race game is suitable for kids older than 3-year-old.
– There are 105 pieces in total, including 75 building pieces and 30 marbles.
– Set of blocks for kids can improve their hands-on ability, creativity, exploring capability, hand to eye coordination, color discrimination, and sparkle their imagination.
– Colorful and beautiful appearance can stimulate the brain and thought of kids.
– Assembling these blocks with your children can make wonderful memory together.
– Plastic building pieces are of high quality, durable and easy to build.
– Create your own maze model by using your imagination, and watch the marbles race through the track.
– Caution for small components.
– Size ( assembled ): 47 x 28 x 23cm
This is a great gift idea too so grab a couple of sets and add them to your gift closet!