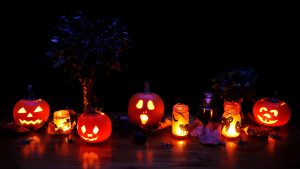 Halloween is in just a few short weeks! Is your home decorated yet? I am all about decorating right now, but unfortunately I have a very tight budget right now. Thanks to my desire to decorate and save money, I have been looking at Amazon for cheap decor items. 
In case you didn't know it, the amount of inexpensive Halloween decor that you can find on Amazon is shocking! There is so much great stuff out there that won't break the bank. You are going to be amazed at how great your house can look for very little out of pocket. 
Inexpensive Halloween Decor You can Find on Amazon 
Fake spider webs are one of the most budget friendly decor items that you can buy and they are so much fun! You can make them a spooky addition or just a fun one! 
How fun are these bat stickers? Plus, they work inside or outside so these are great for whatever kind of decorating you are planning. 
Window clings are great because they are cheap, easy to put up and easy to take down! I love them because they let my little guy take part in the decorating process too. His siblings are much older than him so they get to help with the other aspects of decorating, but he is able to do these ones. 
Pillow covers are a great decor item for any holiday. Here are just some of my favorite things about using pillow covers as decor pieces:
They are cheap

They are easy to store and reuse next year

They work as an accent to your everyday decor
You can use pillow covers to decorate bedrooms, living rooms and even entryways and tables. 
Flameless candles are great because they can be used over and over for just about any holiday. With white/ivory colored flameless candles you can surround them with other decor items/colors to make them work for holidays throughout the year while only buying them once.