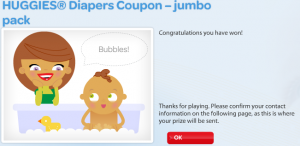 Woot!  I was just doing a daily round of paying instant win game and I won a free jumbo pack of huggies diapers!  That baby finally made bubbles with his mouth rather than the usual way.  Don't forget to play the game with the codes I have shared with you or the ones found on packaging of Huggies products you buy.
Here are a couple of other games that end today and tomorrow:
Good luck! and let me know if you won anything.  I really love hearing your winning stories.