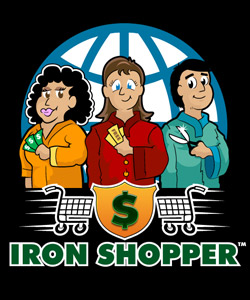 Welcome to week one of the Iron Shopper Challenge!  Every Monday I will set up this post where you can share  and brag about the deals you got at the stores you shop.  On Sunday morning I will close this thread and name the winner of the Iron Shopper Challenge for the week.  The winner will be selected based on the number of votes their entry receive.  So make sure to make your entry appealing to get people to vote for it.  Share your deal with friends and family to get more votes too.  Competing is OK but having fun is what's important.  I want this to be a forum where you can share and brag about the deals you have gotten
Here are some quick Rules, How Tos and FAQs:
Rules:
The main rule is to play by the rules.  Please only share deals that followed the fine print of the coupon or deal guidelines. For example if a coupon excluded trial size items and you used it on trial size items the deal is not legit.  Another example:  the deal limit at CVS may be one per household, if your picture shows that you went over the limit then you have broken the rules.  I will try to do my best to remove deals that don't follow the rules.
Please only contribute your deals to this post.  If you are not sharing a deal the only feedback you can provide is voting for a given deal you like.  Please don't leave other types comments on this post to prevent cluttering the thread.
How Tos:
To upload your photo, just click on browse and look for the photo you want to upload on your computer.  Write up your comment or brag and click submit.  At that point your picture and comment will show.
To vote just click on the thumbs up image.
To share your deal with friends and family and get them to vote on it:  on the upper right corner of your comment you will see a number.  Put your computer mouse cursor over that number and right click on it.  Select "copy link location."  Use that link to share about this deal with friends on Facebook, Twitter, email, however you want to share it. When your friends and family click on that link they will see your comment first and will be able to vote on it.
To view a bigger size image all you need to do is click on the image to see all of the detail.
Frequently Asked Questions:
How many times can I post my deals?  you can post your deals once a week.  This is the best way to make sure you get the most votes on a given post.  You don't want to have more than one deal posted as they would be competing for votes.
When can I post my deals?  You can post your deals starting on Monday and all the way through Saturday evening. You may want to post early in the way to give plenty of chances for people to checkout your deals and get votes on it though.
What happens when I win?  You get a $20 prize!  But I will also "retire" you as an Iron Shopper to give others the chance to win.
How many times can people vote?  The voting system only allows people to vote once per entry.  If you are voting, you can vote in as many entries as you want but only once.
What kind of deals can I share?  You can share about any deals you have gotten at the drugstores, your grocery stores, thrift store, garage sale or wherever you have scored an awesome deal.
Click here to start sharing your deals and to view the entries. I have uploaded my own deal to provide an example.  Mine is of course not eligible for winning 🙂