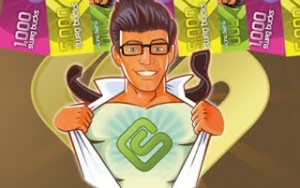 Time to rev up your search engines! It's Friday which means it's Mega Swag Bucks Day. If you are using SwagBucks as your search and win engine today you have increased chances of winning our Mega Swag Bucks denominations (100, 200, 500, 1000).
If you are not using Swagbucks it is always a great time to start doing so. Swagbucks is a search engine that randomly rewards you with Swag bucks every time you use it. The more you use it the more chances you have to win these Swag bucks. Accumulate these bucks to get free stuff.
Plus there are some great news to share! Swagbucks has slashed the prices on all of their gift cards (except for the $5 Amazon.com) so that all $5 cards are 500, all $10 cards are 1000, all $25 cards are 2500 and so on. Great way to get more value for your Swag Bucks. Also the monthly limits on all gift cards (except the $5 GC) have been removed.