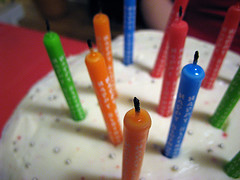 So, it's my birthday today and I think it is time to party.  Don't know exactly what the point of Birthday's are… celebrate that we are older? hardly a reason to celebrate.  Wiser? hopefully.  More experienced?, perhaps.
Here are some fun facts about my birthday:
I share my birthday with Ashton Kutcher, Chris Rock and Garth Brooks.
I was born in the year of the Rabbit and this is the year of the Rabbit.  So, I am supposed to have a great year.  Honestly, I have been very blessed for the past few years, so I can't think of anything that could get better but maybe I will start buying lottery tickets?…
I am gonna celebrate my birthday with a delicious birthday cake.  NOT from a grocery store but from a bakery, made to order.  Yes, I am splurging on a birthday cake because I don't care about eating chocolate but I care about eating cake 🙂
I can't give YOU a piece of my birthday cake BUT I would like to celebrate by giving away some fun stuff.  Leave a comment on this post if you would like to be entered to win any of the following prizes:
Five $20 Barnes & Noble Gift Cards
Three $80 vouchers to create personalized photo bags and accessories at Snaptotes.  Voucher can be used towards shipping.
Three one 16″x20″ thick (1.5″) gallery-wrapped canvas from Canvas on Demand (a $126.95 value).  Includes shipping and Taxes
Three $25 vouchers to shop at Love Stamped (includes shipping)
This giveaway is open to US residents 18 years and older.  This giveaway will close 2/8 at 9PM EST.  good luck!