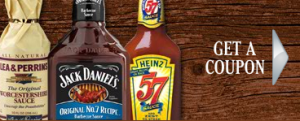 There is an awesome $0.75/1 Jack Daniel's Barbecue sauce coupon. This is the time when a lot of these products are going on sale and I wouldn't be surprised if you are able to use this coupon to grab a hot deal on these at a store near you.
You will also find coupons for Heinz 57 and Lean & Perrins Sauce.
Thanks, Printable Coupons and Deals!