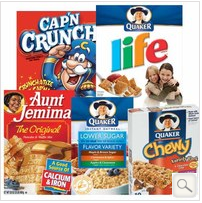 This week Jewel is running a promotion:  Get $5 off when you buy 5 selected items.  One of the items included is Quaker oatmeal which has fabulous printable coupons available:
Buy five Quaker Oatmeal $1.25 when you purchase in quantities of five
Use five $1/1 Quaker Oatmeal coupon (IE) (FF Link) or here OR
Use $1/1 Quaker True Delight if included or here
Pay $1.25 for five!
Sweet deal!  There is also free Coffee Mate.  Check out all of the Jewel Deals over at Couponing for $4.  She also has your Dominicks Deals which includes free Lunchables and more.