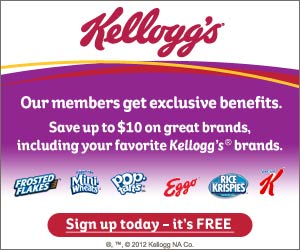 Check out this great selection of Kelloggs printable coupons available from Kelloggs Family Rewards.  You need NO points to be able to print these coupons:

$1.00/1 select Keebler cookies. <- these go on sale for $2 at CVS and Walgreens often)
$.70/1 BIG Cheez-It.
$.70/1 Mozzarella Cheez-It.
$.70/1 Kellogg's Choco Zucaritas cereal.
$1.00/1 Kellogg's FiberPlus nutty delights bars.
$.50/1 Kellogg's FiberPlus cereal.
$.70/1 Kellogg's Crunchy Nut caramel cereal.
$.70/1 select Kellogg's Mini Wheats.
$.70/1 Keebler Town House flatbread crisps.
$.50/1 Gluten Free Rice Krispies.
$1.00/1 select Eggos.
$.70/1 Krave cereal.
$.70/1 Pumpkin Pie flavored pop-tarts.
$.70/1 Special K Popcorn chips. These are $2.00 at Ultra this week.
$.70/1 Special K pastry crisps.
While you are there don't forget to pad up your account with these codes:
KFRFREEGROCERIES – (50 points) *NEW*
MYFAVCHARACTER50 – (50 points)
HALLOWEENPARTY25 – (25 points)
HOWITWORKS20PNTS (20 points)
KELLOGGSMEDAL20P (20 points)
KFRFIBERPLUSPOLL (10 points)
JOINKELLOGG2SAVE (50 Points)
Bonus:  Earn 50 bonus points when you enter your next code from kid-friendly Kellogg's® Apple Jacks®, Froot Loops®, Frosted Flakes® or Corn Pops® cereal by 11/15/2012.
Thanks MAshupmom!