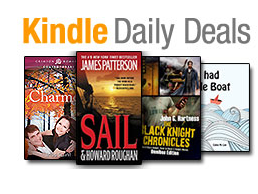 Every day Amazon offers a selection of Romance, Science Fiction, Fantasy and Teen titles at a discounted price.
Kindle Daily Deals – Each day they unveil new Kindle book deals for adults and young readers with prices usually ranging $1.99-$2.99.  Here are today's selections:
Kindle Monthly Deals – Each month they unveil a new collection of 100 Kindle books for $3.99 or less.
Here are some free kindle titles available for download at the moment:
Fiction
Bold Counsel (The Trials of Sarah Newby).
Phantom Patrol, The (Stories from the Golden Age).
The Dream Jumper's Promise (Dream Jumper Series).
Breaking All the Rules
Non Fiction
If the Shoe Fits: A Contemporary Fairy Tale.
Retire Your Husband: A Millionaire Mom's Guide To Replacing Your Spouse's Income Through Network Marketing.
The 7 Most Powerful Prayers That Will Change Your Life Forever.
Cookbooks
Healthy Salad Dressings: The Ultimate Recipe Guide – Over 30 Natural & Homemade Recipes.
Superfoods Guide Eat Clean,Eating Heathy & Simply…Naturally.
Easy Kombucha Recipes: Recipes,Tips and Tricks for Health and Making Kombucha (The Easy Recipe).
Heart Healthy Diet: Paleolithic and Grain Free Recipes to Promote Better Health.

Remember that you do not need a Kindle e-reader to be able to read this book. You can read it on your PC, iPhone, iPad
, Blackberry and Android. Just download for free the appropriate application to be able to do that. Amazon changes prices without notice, so make sure to check that the kindle price it is still $0.00 before you start downloading this book.