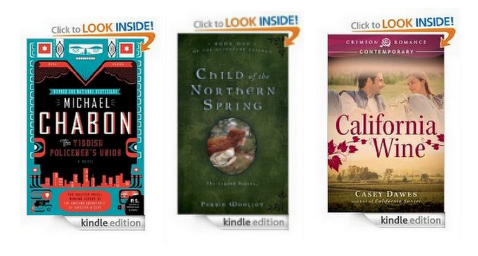 Every day Amazon offers a selection of Romance, Science Fiction, Fantasy and Teen titles at a discounted price.
Kindle Daily Deals – Each day they unveil new Kindle book deals for adults and young readers with prices usually ranging $1.99-$2.99.  Here are today's selections:
Kindle Monthly Deals – Each month they unveil a new collection of 100 Kindle books for $3.99 or less.
Here are some free kindle titles available for download at the moment:
Fiction
A Soft Place to Fall (Shelter Rock Cove).
Arisen, Book One – Fortress Britain.
Distant Dreams (Ribbons of Steel Book #1)
Non Fiction
The Madness of Joe Francis: "I thought we were all just having fun. I was wrong.".
Difficult People: Dealing With Difficult People At Work (Quick Start Guide).
Simplify Your Homeschool Day: Shorten Your Day, Sweeten Your Time.
Food Scrap Gardening: How To Grow Food from Scraps, Reduce Waste and Feed the World (Gardening Guidebooks).
Saved Without A Doubt: Being Sure of Your Salvation (John MacArthur Study)
Children and Teen

Book 1: The Crown Prince (The Kid Emperor of Occultoria).
BeSwitched, Paranormal Romance (The BeSwitched Series, Book 1).
Cookbooks
The Ultimate 4th of July Summer Cookbook.
The Paleo Aficionado Soup Recipe Cookbook (The Paleo Diet Meal Recipe Cookbooks).

Remember that you do not need a Kindle e-reader to be able to read this book. You can read it on your PC, iPhone, iPad
, Blackberry and Android. Just download for free the appropriate application to be able to do that. Amazon changes prices without notice, so make sure to check that the kindle price it is still $0.00 before you start downloading this book.