Every day Amazon offers a selection of Romance, Science Fiction, Fantasy and Teen titles at a discounted price.
Kindle Daily Deals – Each day they unveil new Kindle book deals for adults and young readers with prices usually ranging $1.99-$2.99. Here are today's selections:
Kindle Monthly Deals – Each month they unveil a new collection of 100 Kindle books for $3.99 or less.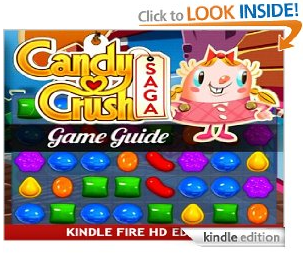 Are you a fan of Candy Crush Saga game? Do you want to play on the Kindle Fire HD? Many users have been recently frustrated by a lack of a way to play the game on the Kindle Fire HD, but we are here to help with step-by-step instructions!  Grab the Candy Crush Saga Game Guide for Kindle Fire HD: How to Install & Play with Tips, Tricks & Cheats! for just $2.99!  This is an eBook and not the Candy Crush Saga game. This book is for helping individuals to use and play this fun game, but the authors are not affiliated with the game makers.
Here are some free kindle titles available for download at the moment:
President Barack Obama: The Kindle Singles Interview (Kindle Single).
Resisting the Bad Boy (NICE GIRL TO LOVE).
Unleashed (A Sydney Rye Novel, # 1).
Ta Ta for Now! (Stories about Melissa).
PETER AND THE VAMPIRES (Volume One) (PETER AND THE MONSTERS).
Food Preservation Book Package: Food Drying and Food Canning (2 Books).
40 Juicing Recipes For Weight Loss and Healthy Living (Juicer Recipes Book).
The Camping Cookbook: Delicious and Mostly Easy Recipes the Family Will Love (Camping Guides).
101 Substitutions for Ingredients.

Remember that you do not need a Kindle e-reader to be able to read this book. You can read it on your PC, iPhone, iPad
, Blackberry and Android. Just download for free the appropriate application to be able to do that. Amazon changes prices without notice, so make sure to check that the kindle price it is still $0.00 before you start downloading this book.